SERVICES
We offer the best document service which contributes to the improvement of our customers' performance and operational efficiency.
We will continue to challenge the creation of new business ideas in the future by integrating our achievements for over 100 years and with the help of the emerging technologies.
As a document service provider professionals company, we support strengthening corporate competitiveness.
For a maximum value of our service to our customers, we have developed the following businesses:
4 Businesses
In addition to enhancing individuals' expertise and strengths, we will venture to expand from a broader perspective by closely harmonizing each project.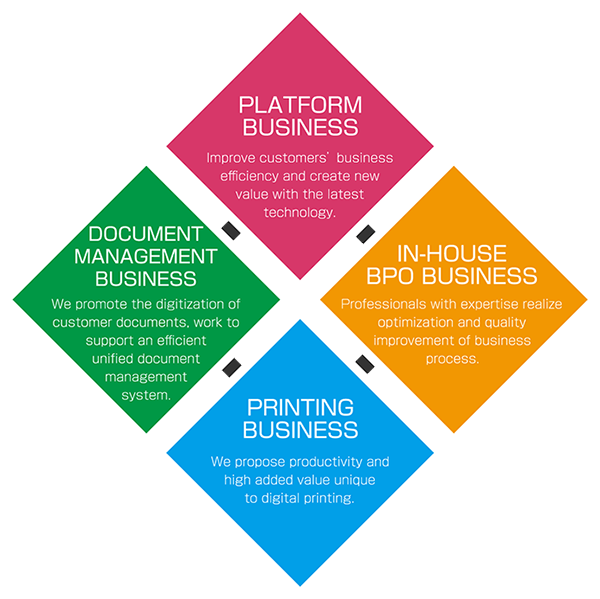 Our Strong Points
We are document service professionals.
We constantly pursue new services and processes and have "Strong Points" to strengthen our customers' competitiveness.
We provide high quality services that can respond to rapidly changing markets by making use of the latest technology.
We accelerate businesses by taking advantage of high added value of digital printing.
We offer best printing service that customers need with hybrid operation of offset printing and digital printing.
We promote the competitiveness of companies and the digitization of documents for risk management.
We manage unified management from document creation to operation and disposal.
We are a one-stop service provider from planning of service model to printing, processing, shipping and inventory management. We are your strategic partner.
Document BPO, effective use of human resources and reduction of fixed costs, now realize efficiency and high quality of work.
Company Profile
Company Name

Apix Co. Ltd.

Established

February 1920

Capital

20,000,000 JPY

President and CEO

Taketoshi Kawamura

Osaka Head Office

1-2-2 Bakuro-machi, Chuo-ku, 541-0059, Osaka Prefecture
TEL. 06-6271-7291(代)
FAX. 06-6271-7296

Tokyo Branch Office

3F Ozawa building, 3-4-14 Higashi-nihombashi, Chuo-ku, 103-0004, Tokyo Prefecture
TEL. 03-5879-7291(代)
FAX. 03-5879-7296

Total Sales Amount

1.03 billion JPY as of September 2020

Business Description

Printing, Information Processing and Business Contracting

Acquired Certification

Information Security Management System ISMS(ISO 27001)
October 14, 2014

No. of Employees

130 employees as of September 2020